S/PDIF
What is S/PDIF?
S/PDIF (Sony/Philips Digital Interconnect Format) is a data link and physical specification for transmitting digital audio streams. S/PDIF signals may be sent across coaxial or optical (TOSLINK) cables. S/PDIF interconnects components in home theatres and other digital high fidelity systems. S/PDIF is based on the professional AES3 interconnect standard. S/PDIF can carry two channels of uncompressed lossless PCM audio or compressed 5.1/7.1 surrounds sound such as Dolby Digital Plus or DTS-HD High Resolution Audio. But, it does not have the capacity to carry the uncompressed data in the lossless formats of Dolby TrueHD and DTS-HD Master Audio – as HDMI does.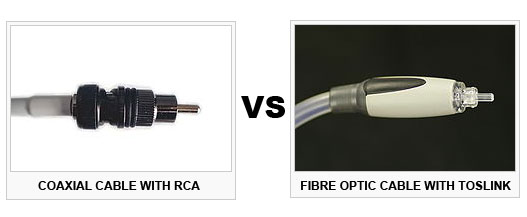 Applications
A common use for the S/PDIF interface is to carry compressed digital audio as defined by the standard IEC 61937. This mode is used to connect the output of a DVD player or computer, via optical or coax, to a home-theatre amplifying receiver that supports Dolby Digital or DTS surround sound. Another common use is to carry two channels of uncompressed digital audio from a CD player to an amplifying receiver.
HDMI vs Optical
There are a few different ways to connect devices to your home theater system to provide full surround sound. The most popular method is HDMI, a simple cable that carries both video and audio. The second most popular is an optical connection (also known as "TOSLink" and "S/PDIF"), which only carries the audio data and requires a separate connection for video, like component or composite cables.
Neither of the S/PDIF standards for transferring digital audio--optical and coaxial--can transmit the bandwidth necessary for Blu-ray-specific audio formats like Dolby TrueHD, DTS HD Master Audio, and Linear PCM. That requires HDMI. Blu-ray players send Dolby TrueHD signals down S/PDIF cables as Dolby Digital, DTS HD MA as DTS, and 5.1 PCM as two-track stereo PCM.