Mac Audio Player - The Simple and Fast Audio Player for Mac
Although iTunes is a powerful media player and management tool for Mac users. There are still some people want to be able to double-click an audio player and play it directly without the extra operations. If you are the person who have been using the same iTunes for a very long time and get bored with it, you can make some changes, like choose an alternative player. Anyone familiar with the iTunes knows that the tool is a very heavy application, that means to launch it will consume a big part of your memory resources. Here we recommend you a free Mac audio player which supports all the popular audio formats and very easy to master.
Aurora Blu-ray Player is an all-in-one media player for Mac OS. You can use it to play all types of audio file formats simply and elegantly. You should note that besides the Blu-ray playback function, this music player for Mac is free for playback other media formats like DVD disc/ISO, Video CD, video, audio, etc.
This audio player for Mac supports: *.ogg, *aac, *.mp3, *.wav, *.aac, *.ac3, *.aif, *.aiff, *.amr, *.ape, *.cda, *.dts, *.flac, *.m4a, *.mka, *.m4p, *.mp3, *.oga, *.wma, etc. It has all the features which a basic audio player holds. You can select one file or multiple files at one time for playback.
The currently being playback info will be shown in the bottom-left of the main interface. As shown in the screenshot below.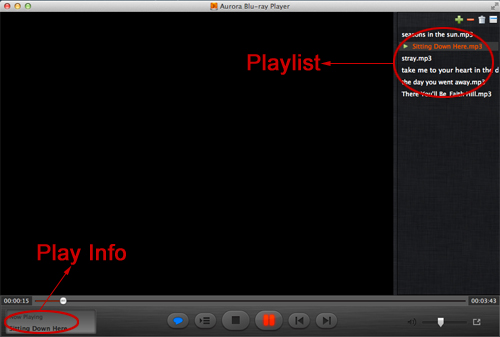 File drawer feature helps you in selecting new files by simply dragging them into player's main interface. You can switch on the Playlist under the "Window" menu to check added files.
You can quickly play an audio file, by selecting Aurora Blu-ray player from "Open With" option in the right-click context menu.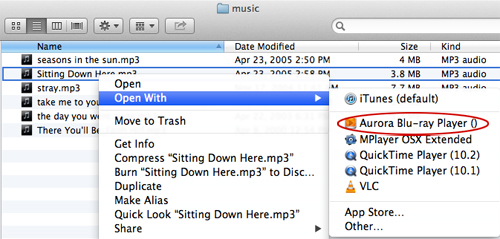 In short, Aurora Blu-ray Player can be used as Mac MP3 player to play MP3 CD, FLAC player for Mac to play lossless FLAC, WMA player for Mac to play Windows Media Audios which surely will boost the pleasure of your favorite music.
Other Practical Features Included:
1. Blu-ray disc/ISO support;
2. DVD disc/ ISO support;
3. Video support;
4. Online media playback support.
This Mac media play APP is highly compatible with Mac OS X Version 10.5 and later version, especially the Mac OS X 10.8
Hot Tags: Mac Media Player, Blu-ray Player Software, Mac Blu-ray Player