Best Apple Media Player for enjoy Blu-ray Media, DVD Media, HD Media, etc. on Mac
QuickTime Player is still the best tool for playback H.264 MOV movies, so does the VLC Media Player which supports almost any types of the media formats in the market except Blu-ray. Here the question is that is there all in one Apple Media Player allows you to enjoy H.264 MOV, DVD media, HD media, video, audio as well as Blu-ray media files? The answer is yes! Aurora Blu-ray Player is an all functional Mac media player which allows Apple users to enjoy plenty of format as they can imagine including Blu-ray DVD disc, ISO, folder, etc.
Although Apple hasn't made its computer with built-in Blu-ray drive, there is still a need for Blu-ray playback on Mac as the development of Blu-ray HD. And the new version of FCP, Roxio Toast Titanium and Adobe Encore are supporting importing AVCHD and authoring Blu-ray disc. A full functional Apple media player that support Blu-ray playback will be very necessary.
Aurora Blu-ray Player for Mac supplies with a simply user-friendly interface. It now can support Blu-ray disc/ISO/standard folder(watermark for unregistered version), DVD disc/ISO/folder, Video CD, HD media(MOV, MKV, RM/RMVB, AVI, WMV, etc.), video, audio, etc. You can begin playing a Blu-ray DVD from the point where you previously stopped it with the resume playback function. The right click shortcut let you quickly switch language and audio track. You can use the Snapshot function to capture the beautiful scene and save them for future usage.
A Simple Guide
There is no complicated operation for using Aurora Blu-ray Player for Mac. What you should do is just to: 1. Connect your computer with a Blu-ray drive(USB 2.0 or above); 2. Free download and install the player on your Mac and run it; 3. Insert the Blu-ray disc you want to enjoy. Now you can enjoy Blu-ray movies on your Mac.
1. Check the film tidbits and illustrations
After disc loading, the Navigation Panel will show up. You can choose Other Titles option to check the extra features of the BD movie.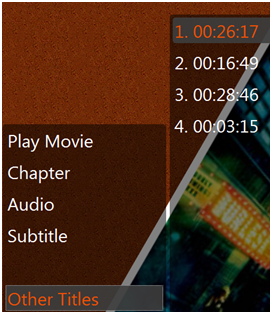 2. Resume playback
Under "Tools - Preferences - Playback", you can adjust the Playback Memory option.

3. Multi channel audio output if available
Aurora Mac Blu-ray Player support output DTS HD 7.1, DTS/AC3 5.1, If you own a AMP that support multi channel audio output, just choose the right output device under "Audio - Audio Device".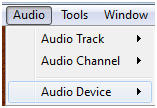 Hot Tags: Blu-ray ISO Player, Playing Blu-ray on PC, Mac Blu-ray Player